Moving Howard Forward - January 2022
January 22, 2022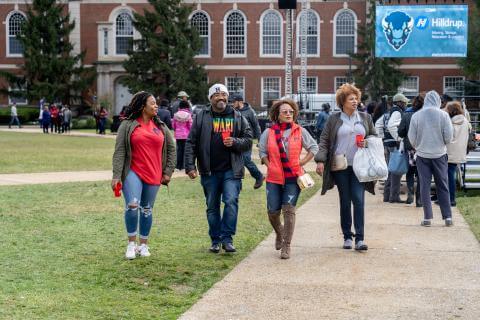 Moving Howard Forward
"We cannot overstate the importance of advancing Black women's leadership at this moment in history. Facing a global pandemic, a severe economic downturn and a renewed societal focus on racial injustice, the country is facing a critical inflection point. Women already represent a significant and growing proportion of the labor force and a vocal component of civic life. This gift seeks to capture that energy, develop this exceptional talent pool and push our country forward, with women at the helm." – HU Trustee Jim Murren and Heather Hay Murren.
Howard University is thrilled to announce the launch of the Center for Women, Gender and Global Leadership thanks to an extremely generous $1 million gift from Trustee Jim Murren and Heather Hay Murren.
For generations, Howard has educated powerful Black women who have emerged as leaders in every way – from Kamala Harris to Zora Neale Huston, Roberta Flack, and Toni Morrison, to name just a few. The opening of this center is a historical moment for Howard – and we've never needed these leaders more.
 The Center for Women, Gender and Global Leadership will accelerate interdisciplinary research and illuminate pressing global issues facing women. As a center of excellence focused on the transformational leadership of Black women, the center will concentrate on five core areas:
Law and social justice;

Entrepreneurial leadership;

Politics and public policy;

Science and technology; and

Health and wellness.
The center will serve as a hub for curriculum development and a new minor in women, gender and sexualities studies. Other programming will include the launch of a lecture series, graduate and undergraduate fellowships, development of a pipeline to leadership program for students, and grantmaking for action-oriented faculty research.
Categories
Your Impact at Howard Newsletter