Bison Service - January 2022
January 22, 2022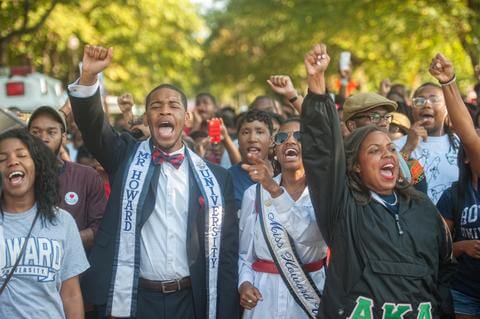 Bison Service
"Our students are community-engaged problem solvers, committed to engineering the world into a better, more sustainable, and equitable place." – John Tharakan, Ph.D., HU professor of chemical engineering and faculty advisor of the HU chapter of Engineers Without Borders
Ward 8 only has one full-service grocery store for more than 75,000 residents. Food insecurity is widespread throughout the ward's predominantly Black residents. And with little to access to fresh fruits and vegetables, it's no surprise that Ward 8 suffers from the city's highest rates of adult diabetes and obesity.
In 2021, a group of Howard University students rolled up their sleeves and decided to help solve the problem. Students from the Howard chapter of Engineers Without Boarders joined with community organizations to design and construct the Garden of Eden. The community came together to plant 15 garden beds and 14 fruit trees at the Allen Chapel AME site. The garden features taller than usual raised beds so it's easier for seniors and those with limited mobility to get involved.  
The gardeners of Eden are growing flowers, fruits, vegetables, herbs, and medicinal plants to support health and healing for families in the community. Produce is distributed to local residents through the Allen Chapel Food Pantry. The Garden of Eden is just one more way Howard students are using their expertise and passion for service to strengthen D.C. communities.
Categories
Your Impact at Howard Newsletter