August 20, 2021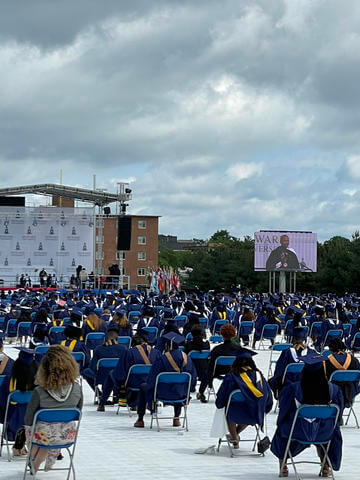 Bison Proud
With limited in-person courses and the majority of instruction taking place remotely due to the COVID-19 pandemic, this past academic year was challenging. But on May 8, Howard celebrated graduates from the Classes of 2020 and 2021 through an outdoor and safely distanced commencement ceremony. The full event was available to friends and family members via livestream.
Howard University President Wayne A. I. Frederick commended the graduates for enduring the challenges of the pandemic and told them that their Howard University degrees serve as a badge of honor.
"You have demonstrated tremendous resilience to reach this milestone," said Frederick. "At a time when no one could have faulted you for becoming complacent or distracted, you pursued your studies with a renewed passion because the pandemic reinforced your 'why' and reminded us all that a Howard education truly comes to life when it is deployed in the service of others." 
Bryan Stevenson, social justice activist and Founder and Executive Director of the Equal Justice Initiative, was presented with an honorary doctorate in humane letters during the ceremony and delivered the keynote address to graduates. His words about truth, justice and hope inspired the graduates. 
"To do justice, we're going to have to change narratives, we're going to have to stay connected to the communities of the poor and the disfavored and the marginalized, but we're also going to have to stay hopeful," said Stevenson. "I really do believe that hopelessness is the enemy of justice and justice prevails where hopelessness persists. Generations of Howard graduates have understood that hope is our superpower." 
By completing their studies during the pandemic, the Classes of 2020 and 2021 reminded us that our pursuit of education is not just for self-enrichment, but for the betterment of our world. The drive – to better ourselves, our communities, and our world – brings students to Howard.
Categories
Your Impact at Howard Newsletter - Cloned