August 20, 2021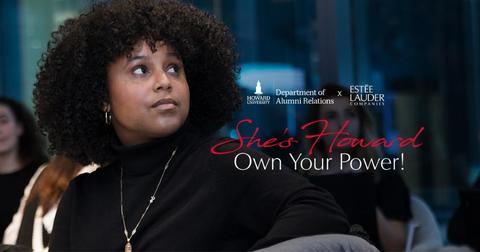 When you complete your journey to the Hilltop, you earn much more than a diploma – you join a family of distinguished leaders who embody Howard's tradition of excellence. The Office of Development and Alumni Relations is committed to keeping you connected to each other and the University you love. Be sure to stay tuned for many more exciting resources and opportunities in the coming months.
We're thrilled to share the success of our new She's Howard: Own Your Power partnership with The Estée Lauder Companies. This new program launched in March and already more than 1,500 of our Bison alumnae have taken part!
"Building this partnership with the Howard alumnae at Estée Lauder Companies has been so rewarding. I could not be more excited that Estée Lauder has partnered with us to bring this program to life." – Sharon Strange Lewis (B.A. '84, P. '17), Director of Alumni Relations
Over the past thirteen weeks, Howard alumnae have had the chance to hear from leaders within Estée Lauder and participate in exclusive networking events and nine lively panel discussions to help them advance both personally and professionally. Be sure to visit our YouTube channel to watch any of our past She's Howard: Own Your Power events.
"My HBCU experience, like no other experience I've had, prepared me, not just for my career, but for life. It instilled in me a confidence that I can handle anything that comes my way." -Nicole Monson, Senior Vice President and Deputy General Counsel for The Estée Lauder Companies and Howard University School of Law graduate
Categories