Moving Howard Forward - March 2021
March 22, 2021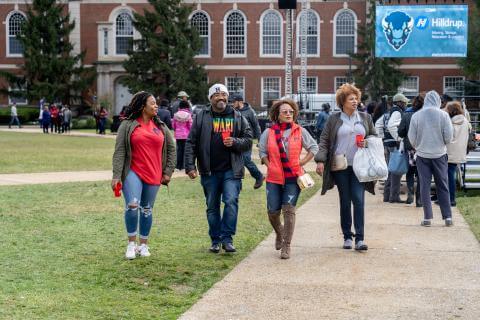 Moving Howard Forward
2020 was a year unlike any other – but nothing disrupts our Bison spirit. With limited in-person courses and the majority of instruction taking place remotely, the beginning of the 2020-2021 academic year was challenging. But no matter where Howard students are, we are always committed to providing them with the intellectual rigor that defines the entire Howard experience.
Howard is one of the world's most prestigious destinations for professionals in health, science, engineering, art, law, and education. And despite the challenges of 2020, the world is starting to notice. This fall, Howard soared to No. 80 in the 2021 U.S. News & World Report Rankings, marking the University's best ranking to date. This accomplishment happened because of Howard's continued investments and commitments to academic rigor and student retention.
Factors contributing to the institution's improved score this year include our increase in first-year student retention rate, which is above the national average, and a graduation rate seven percent higher than the anticipated rate.
Howard also ranked No. 2 among Top Historically Black Colleges and Universities (HBCUs), jumped 12 spots in the listing of the Best Undergraduate Business Programs, and rose six spots in the listing of the Best Undergraduate Engineering Programs.
Amongst comparably ranked national institutions in the U.S. News & World Report, Howard holds the highest number of students receiving need-based aid. And, we are extremely proud that Howard ranked as the No. 3 private institution for social mobility in the country.
We must maintain our commitment to making a Howard education accessible to the best and brightest students, regardless of their economic circumstances because every student deserves access to a high-quality education. Your ongoing support helps move Howard Forward.
Categories
Your Impact at Howard Newsletter