150th Anniversary Artwork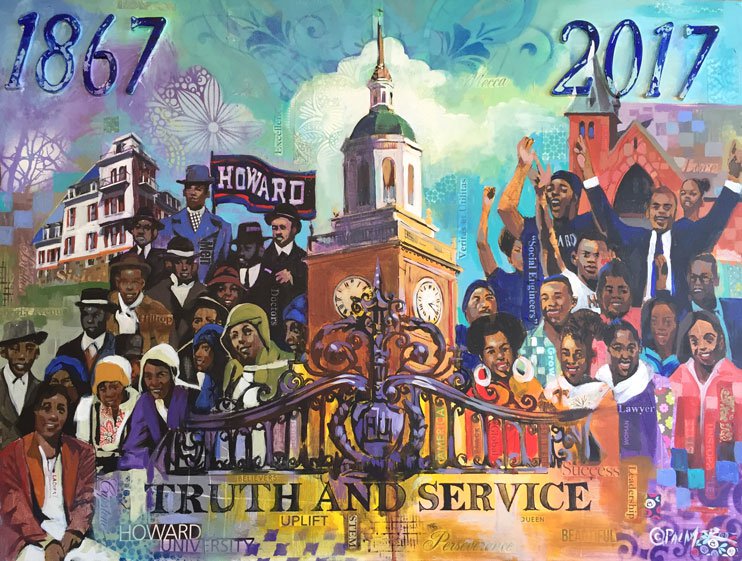 The Howard University Alumni Association (HUAA) was authorized by the University to commission and market a commemorative work of art in celebration of the University's sesquicentennial. Charly Palmer, a resident of Atlanta, GA was the artist selected by HUAA to produce the work.

An original work of art to commemorating the 150th anniversary of Howard University was created. The Howard University Alumni Association and Department of Alumni Relations hosted a kick-off / unveiling reception during homecoming 2017 with the artist in attendance and the original piece will be donated to the University by HUAA by an alumnus. There are still high-quality prints of the original for sale and available to the Howard family through HUAA and DAR.

The original piece was 40" x 30" in size and produced in acrylic on canvas. HUAA is offering 150 limited-edition prints of the work along with a few artist proofs and potentially re-marques. The prints are produced on heavy cotton watercolor paper with a minimum weight of 120 lbs. The print image is approximately 38" x 28".
Support Scholarships
Sales of prints are available through HUAA to the entire Howard community and the general public.
Proceeds from go to scholarship funds designated by HUAA and the University.
About the Artist
Charly Palmer (www.charlypalmer.com) is a contemporary artist that has a special gift and appetite for historically focused work. He has done commissioned commemorative pieces celebrating the Brown v. Board of Education decision, the Winter and Summer Olympics, the Little Rock 9, Omega Psi Phi, and Fisk University. He has also done commissioned works for the Black McDonald's Franchisee's and a number of AA businesses including Coalescence, Inc.

Charly Palmer was born in 1960 in Fayette, Alabama and raised in Milwaukee. He relocated to Chicago to study Art and Design at the American Academy of Art and School of the Art Institute. As a graphic designer and illustrator, he ran a successful design studio with a Fortune 500 clientele. As an instructor, he teaches design and illustration and painting at the post-secondary level—most recently—as an adjunct at Spelman College.

Charly Palmer is a renowned painter and designer his work is in private and public collections which include Atlanta Life Insurance, McDonald's Corporation, Miller Brewing Company, the Coca Cola Company, Vanderbilt University, The Wadsworth Atheneum Museum in Hartford, Apex Museum, and Hammond House Museum. Most recently, he completed a number of commissioned pieces for an NFL franchise. One of his previous works - His Story, belonging to the estate of Maya Angelou, was auctioned by Swann Gallery New York in 2015. Palmer completed an illustrated book—Mother Africa—chronicling the life of Miriam Makeba in 2015.