6th Annual Rosemary Williams Breast Cancer Brunch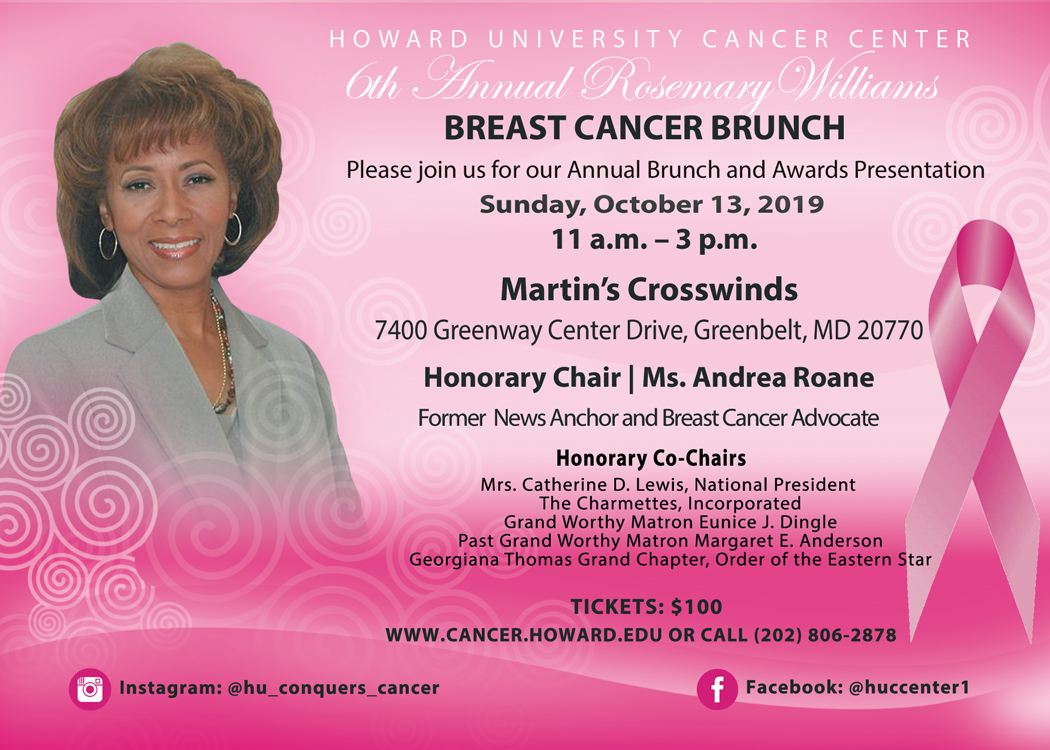 6th Annual Rosemary Williams Breast Cancer Brunch
The Rosemary Williams Breast Cancer Brunch is named after the late Rosemary Williams who was a tireless advocate for equal access to quality health care for underserved women. The brunch will be held on Sunday, October 13, 2019 at Martin's Crosswinds, 7400 Greenway Center Drive, Green Belt, MD 20770, 11 a.m.–3 p.m.
Proceeds from the brunch will be used to support the following Breast Cancer Disparities Programs:
The Rosemary Williams Mammoday Breast Cancer Screening Program provides free and low cost breast cancer screening, diagnostic services, and patient navigation for uninsured women. For 15 years, Mammoday has been a consistent community resource for women who face a variety of barriers to accessing health care.
The Transdisciplinary Breast Clinic provides a patient-centered approach to breast cancer care. Women receive same day, coordinated care from an elite team of cancer specialists. This approach reduces patient burden and enhances the overall quality of care.
The Equal Access to Genetic Testing Fund assists patients for whom genetic testing is indicated and recommended by the cancer care team, but not covered by insurance, and/or for patients who are uninsured.
Bi-lingual Patient Navigator to assist women with overcoming cultural and linguistic barriers to care across the breast cancer continuum.
Event Host and Honorary Chair Ms. Andrea Roane, WUSA Former News Anchor and Breast Cancer Advocate
Ticket Prices $100 individual ticket (52.12 tax deductible)
EVENT SPONSORSHIP OPPORTUNITIES
Rosemary Williams Leadership
Contribution $10,000

LaSalle D. Leffall Legacy
Contribution $5,000

Jack E. White Founder
Contribution $2,500

Kimberly Higginbotham Caring Service
Contribution $1,000

Friends of the Cancer Center
Contribution $500