August 20, 2021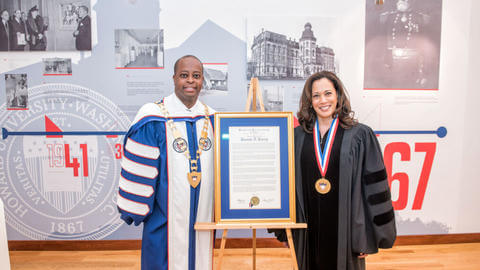 Making History
The first time Kamala Harris (B.A. '86) ran for office, she was elected freshman representative to a student council for liberal arts majors at Howard. She's come quite a long way since then. In January, we celebrated her inauguration as Vice President of the United States. She is the first Black, first South Asian-American, and first woman to hold the office.
Born in Oakland, California, and raised by her mother, a scientist and immigrant from India, Harris said being on Howard's campus was central to her development as a Black person.
"One of the things I realized—since I was active in student government up until today—is the need for diversity," Harris said. "We need to have more women in these highest offices where so many decisions that are made impact women."
Once, while working as a tour guide at the U.S. Bureau of Engraving and Printing, Harris ran into Howard alumnus and actor Ossie Davis and his wife Ruby Dee. "I've never forgotten how it made me feel as a young person to have these two icons, both larger than life, take the time to show an interest in me," she recalls in her memoir. Just as Harris admired the alumni before her, she too has inspired current and future Bison.
"The thing that Howard taught me is that you can do any collection of things, and not one thing to the exclusion of the other," Harris said. "You could be homecoming queen and valedictorian. There are no false choices at Howard." 
Categories
Your Impact at Howard Newsletter - Cloned - Cloned