November 28, 2018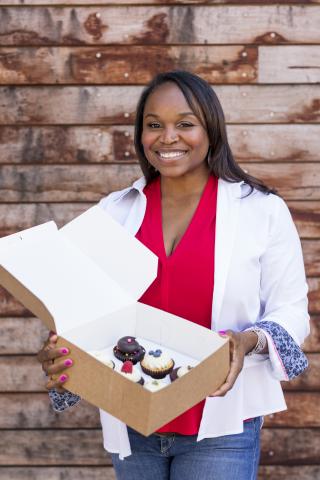 Howard University alumna and entrepreneur Lila Owens (BS 1995) is bringing artisan sweet treats to California's Bay Area with the recent expansion of her gourmet bakery, Cupcakin' Bake Shop. What Owens started as a small catering business run out of her Berkeley home has grown to a chain of retail cupcake shops in three locations across in her hometown of Oakland and Berkeley.
"I started baking at home for friends and family. I wanted to join the industry because I knew I could run with the best in terms of product execution. The business really grew organically through word of mouth," says Owens. "When I set my sites on opening a retail shop, I was lucky to find a storefront in Berkeley, and now we're expanding to three locations." Owens, a former real estate agent with a passion for entrepreneurship and architecture, notes that when she decided to start her career as a gourmet cupcake baker the real estate market was declining and the cupcake world was emerging. She had the confidence and experience to seize the moment.
"It took some soul searching while in real estate to discover what I really wanted to do," says Owens. "I've always had a sweet tooth and thought that a cupcake bakery would just be the coolest business to have. What's most important to me is maintaining integrity and consistency with a really good product." Owens' connection to her hometown is replicated in her connection to the Howard community. Owens earned a bachelor of science in allied health from Howard University in 1995. Reflecting on her experience at Howard University, Owens is clear that Howard changed the trajectory of her life. Active in the San Francisco/ Bay Area alumni organizations, she participates in the chapter's send-off for Bay Area students heading to Washington, D.C.
"My experience at Howard definitely changed the trajectory of my life in a positive way. I encourage today's students not to put so much emphasis on figuring it out. Let things figure themselves out. If you're passionate and have alignment and you're drawn to something, that's probably the field you should work in. Circumstances change, ideas change and the world changes so it's important to just be flexible." Congratulations and kudos to our alumna!
Categories
Alumni On the Move