Hazel Breland (BS 2001), PhD, ORT/L, FAOTA, CLA
November 28, 2018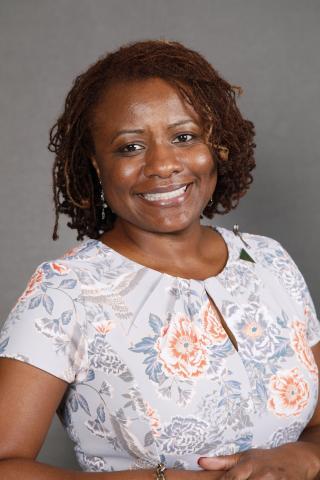 Howard alumna Hazel L. Breland (BS 2001), PhD, ORT/L, FAOTA, CLA, assumed the role of Association of Reproductive Health Professionals (ARHP) president in October 2018. Dr. Breland is the 50th person to hold the honor, and the organization's first African-American leader.
As ARHP president, Dr. Breland will focus on interprofessional collaboration and brings a unique practice and research perspective on interprofessional collaboration and health disparities. Dr. Breland is excited to support the aims of the ARHP and put a spotlight on practice issues dear to her heart, including access to care for underserved communities.
Dr. Breland practices in South Caroline near the area where she grew up. "I am from the fifth largest county by land area in South Carolina, but it is relatively rural and significantly underserved in terms of specialty healthcare providers," says Dr. Breland.
"Relative to my research, health disparities are something I grew up seeing in the rural community where I was raised. I saw firsthand how determinants of health can impact a person's life. Once I began my academic career in Charleston, just 50 miles from my home, I saw a significant gap in the advanced care I worked around compared with the often disparate care I witnessed in my home community. This drove me to study health disparity, because I felt I should be engaged in community issues, and I found that I could integrate my work in my profession, my family, my church and my community to make a difference. Being on a campus that promotes the understanding and the value of interprofessional collaboration was another perfect fit for me to tap into."
"Several things came together at one time that I didn't necessarily think about when I was asked what my aspirations in the organization were in terms of executive leadership," says Dr. Breland, associate professor and academic fieldwork coordinator of occupational therapy at the Medical University of South Carolina (MUSC), where she is also the director of the Dr. Raymond S. Greenberg Presidential Scholars Program. "What I hope to do is continue to have a passion for interprofessionalism and putting that on everybody's radar, … yet I want to also maintain a focus on those things that are important to me—diversity, inclusion and those who are underserved in rheumatology."
She also noted, "I truly believe that being a leader is indeed one of the most fulfilling service roles one can have."
Dr. Breland received a Bachelor of Science in 2001 from Howard University College of Nursing and Allied Health Sciences where she also trained and practiced at the MedStar National Rehabilitation Hospital. She became invested in rheumatology later, during her doctoral studies at the University of Pittsburgh where she earned her MS and PhD.
Congratulations and kudos to Dr. Breland on being the first African-American president of the Association of Reproductive Health Professionals. We are Bison proud!
Categories
Alumni On the Move