Bison Service - March 2021
March 22, 2021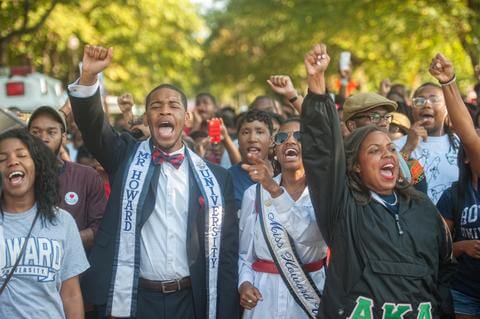 Bison Service
In the midst of the global pandemic, the HU community has not wavered in our dedication to excellence in truth and service. Our Howard family has stepped up to serve our students, our community, and our city when they needed us the most.
Last year, the Howard community quickly provided free COVID-19 testing sites at community centers, churches, and wellness centers in underserved wards 7 and 8 in the District. The Howard University Hospital expanded our community-based services to care for all DC residents, whether or not they had health insurance. We established our own COVID-19 testing center on campus to keep our immediate community is safe.
The Bison Family also played a pivotal role in increasing voter participation in the recent election. Our student association created a voter assistance portal with information on how to register, where to vote, and how to request an absentee ballot. We also partnered with When We All Vote, a non-profit, nonpartisan organization working to close the race and age voting gap. This fall, our Director of Alumni Relations, Sharon Strange Lewis and actress and 1989 Howard alumna, Wendy Davis hosted an engaging panel for over 450 individuals encouraging participants to vote in the election.
We know our Bison Family is answering the call to service throughout our nation and around the world. We would love to hear from you – post a photo to social media of how you are serving using the hashtag #HUTruthAndService.
Categories
Your Impact at Howard Newsletter